EXECUTIVE STAFF
Justine Henning
Co-Founder and Director of Programming
With over 30 years of experience working in education, Justine Henning brings what she has learned as an entrepreneur, educational program coordinator and teacher trainer, curriculum consultant, writer, and public and private school teacher to her role as Founder and Director of Programming of Math4Science.
She manages every aspect of her tutoring business, which has provided New York City children with academic support in mathematics, English language arts, history, science, standardized test preparation, and general organizational skills for two decades. Because her students come to her from the full spectrum of schools operating in Brooklyn, Manhattan, Queens, and the Bronx, she has developed a wide and deep familiarity with K-12 curricula and the strengths and weaknesses of public, private, and parochial schools. She provides deeply differentiated instruction to her students, who include children with great skills and talents as well as learning disabilities, economic disadvantages, and organizational and behavioral challenges.
While providing home instruction services to several families of children, she did extensive research into the various mathematics textbooks and online curricula available, finding each American math curriculum wanting in different (but significant) ways.  Finally selecting textbooks originally produced to meet the higher standards to which the students of Singapore are held and supplementing them with  her own lessons and problem sets, she was able to help the home-schoolers and other mathematics students with whom she worked excel beyond the expectations of most U.S. schools.
She has run workshops to train teachers at Congregation Beth Elohim, where she worked as Tal Am Coordinator from 2010-2013, adapting and implementing a language immersion program.  This involved writing lessons for four grades, running workshops for students, parents, and language instructors, and helping with the process of hiring teachers.
Justine Henning pored through state standards in order to determine which math, science, language arts, and social studies skills should be included in Play Bac Publishing's Homework Helpsters (published in 2007). The knowledge she acquired as Groupe Play Bac's Curriculum Consultant and as a writer for the Homework Helpsters gives her an appreciation of the Common Core State Standards Initiative.
From 1994 to 1997, she taught English Language Arts and Social Studies to sixth, seventh, and eighth graders at the Abraham Joshua Heschel School. At Heschel, she demanded greatness of her middle school students (who were required to: write sestinas, sonnets, or villanelles; participate in reading and writing workshops; read and pass an exam on William Shakespeare's Macbeth; and take rigorous poetry and history exams) and considered it her duty to provide them with the means to succeed.  This balance of high expectations with the support necessary to satisfy them seems to her one of the keys to quality education.
In addition to running her tutoring business, training teachers, creating curricula, and teaching in New York City private, parochial, and public schools, Justine Henning created the website Reading Pen Pals, designed to encourage students of all ages to read more and to write about what they read.  She has also written about her experiences as a homeschooling instructor and about children's movies, books, and television for Slate Magazine, The New York Times, and Nick Jr. Family Magazine.
She holds a Masters degree from New York University and graduated Magna Cum Laude from Harvard University. More recently, she studied adolescent education at Bank Street College of Education and mathematics (including three semesters of calculus, linear algebra, and probability and statistics) at the  University of Chicago and Brooklyn College.
She lives in Brooklyn, New York with Anthony O. Scott, Film Critic for the New York Times, and their daughter and son, who attended New York City public schools from kindergarten through twelfth grade.
---
CO-FOUNDER
Brendan Mernin
After more than twenty-five years experience in education, Brendan Mernin comes to the position of Co-Founder of Math4Science with an insistence on rigor, a rich practical understanding of math education, a discerning eye for quality presentation, and a deep understanding of recent and current changes in content creation and delivery.
He is Founding Tutor at Noodle.com and Strategist at Noodle Partners, two fast-growing online education ventures. For Noodle.com, he tutors and advises students of all ages in New York City and around the world, writes on education and admissions as a Noodle Expert, and creates instructional materials. For Noodle Partners, he advises on product development, creates training materials, and consults on corporate strategy.
Prior to joining Noodle, Brendan Mernin was a Premier Tutor at The Princeton Review, where he was for many years that company's top-grossing tutor in the nation. As both Tutor and Teacher of the Year, he taught SAT, ACT, SAT 2, AP, GMAT, GRE, LSAT, ISEE, SHSAT, SSAT, and many academic subjects to thousands of students in New York, Chicago, and all over the country and the world. He trained hundreds of teachers and was deeply involved in the development of the company's curriculum and materials, serving as National Director of R&D for its LSAT and ACT products, among others. He also spoke to schools and groups nationwide on testing, admissions, and education, and was featured in The New York Times (which called him "the company's number one tutor,") New York Magazine, The Christian Science Monitor, and on WNBC-TV. He wrote about education and admissions for Slate, The New York Post, and other publications.
After graduating from Columbia College with a degree in English Literature, Brendan Mernin started his teaching career as a seventh-grade teacher at Our Lady of Grace Elementary School in the Bronx, where he taught all subjects to a large class. Later, he studied  literature at the University of Chicago and earned an MFA in Fiction Writing at the New School, where he won the Pen and Brush Club Award, directed its fiction reading series, and was Managing Editor of Lit, the program's literary magazine. He was Editor of Transportation Alternatives Magazine and Auto-Free Press, and a Writing Fellow at the Edward F. Albee Foundation. For several years, he taught writing in the New School's Writing Program.
Brendan Mernin has served the Brooklyn community as a volunteer soccer coach with AYSO Region 473, as a member of the Packer Collegiate Institute's Diversity Committee, and as a Presider of Liturgy of the Word for Children at the Oratory Church of Saint Boniface.
He lives in Brooklyn, New York with his wife, the playwright Regina M. Porter, and their two daughters, who have attended both public and private schools.
---
Mikaela Fishman
Graphic Designer & Illustrator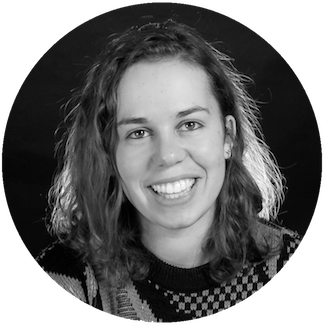 Mikaela Fishman is a graphic artist from Maryland. She graduated from Oberlin College with a B.A. in Visual Arts, specializing in digital art. She works in a wide variety of media, ranging from printmaking to animation to long-exposure photography. Her obsession with detail has led her to a career in graphic design, and her passion for education has led her to Math4Science. She hopes to use her aesthetic skills to put good design in the hands of people who need it the most, in order to make the world a better, more beautiful place. To see more of her work, visit mikaelafishman.com.
Mikaela currently resides in Boston with her roommates, the extremely large houseplant that she isn't quite ready for, and an inexplicably large amount of tinned fish. She enjoys cooking, unnecessarily re-decorating her living room, and drawing pictures of very small insects.
---
El Wilson
Fundraising Associate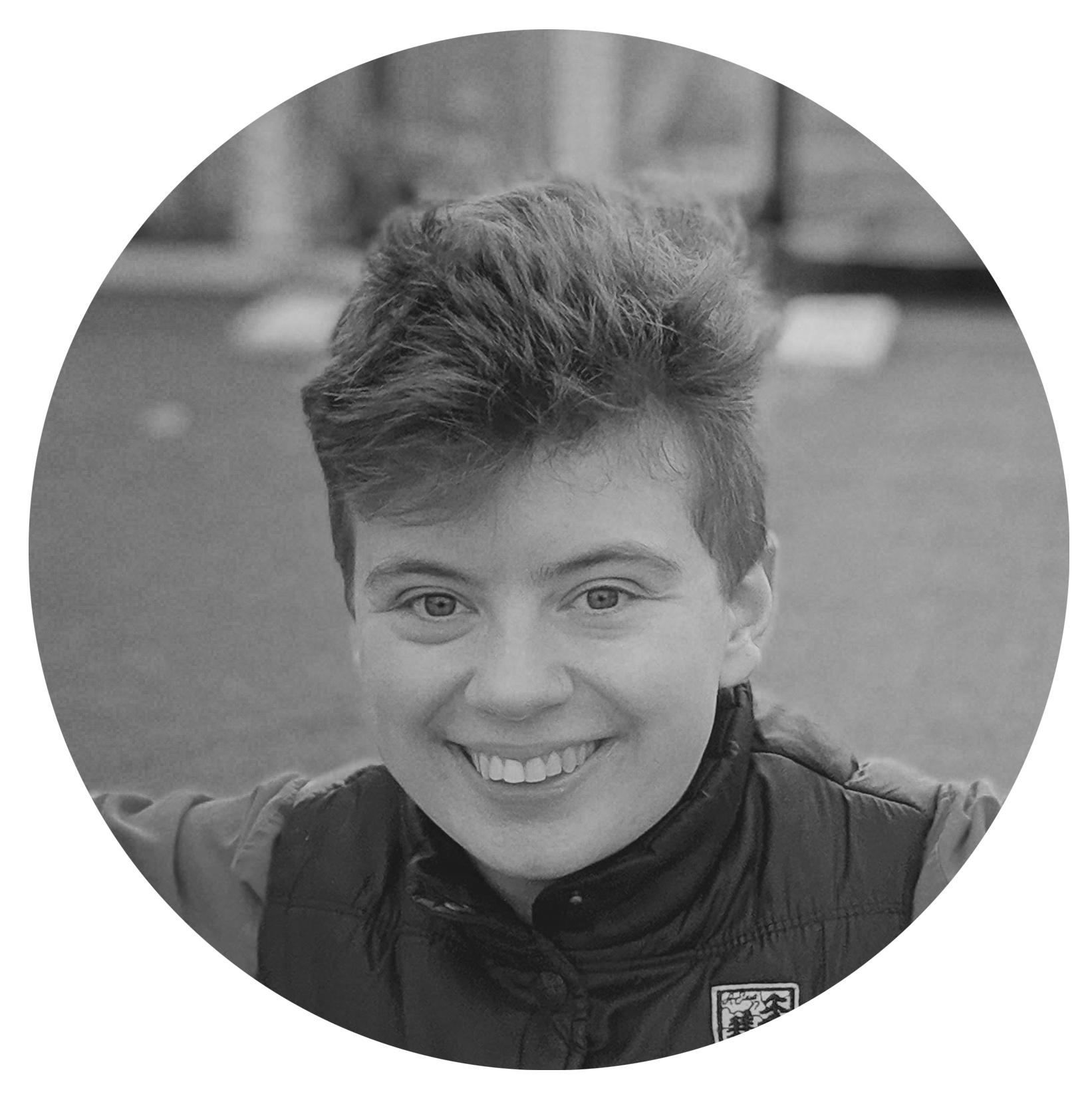 El Wilson is a writer living in Boston, Massachusetts where they serve as the Assistant to the Editor-in-Chief at the newly formed From the Ground Up News, a nonprofit online publication focused on giving readers tools to fight for social justice. Their official responsibilities include writing the Remember the Helpers series and managing the budget. Unofficially, their main function is to warn the editor-in-chief of potential publication-related catastrophes. 
In seventh grade, El announced that they wanted to be a writer when they grew up. They haven't changed their mind. In 2018, they graduated from Oberlin College with a B.A. in psychology and creative writing. Both their nonfiction and fiction often explore disability justice and the relationship between mental illness and neurodiversity. In the fall of 2020, they will embark on a masters in Publishing and Writing at Emerson College. 
El brings both their nonprofit and writing experience to Math4Science with the firm belief that STEM education is crucial to solving the many challenges facing humanity. When El isn't writing or working, they delight in drinking copious amounts of zero-calorie caffeine, playing offense for the Boston I.C.E. Storm sled hockey team, and doodling with scented gel pens.
---
VOLUNTEERS
Gail Brousal
Explore Science Outreach
Gail was the Head of the High School at Saint Ann's School in Brooklyn for more than thirty years. She made important contributions to both curricula and overall operations, serving as a key member of the teacher-evaluation team and of the core administration as a whole, with responsibility for guiding the institution through many challenges to a multitude of successes. Gail not only bore primary responsibility for student adjustment and achievement but also served as school liaison for all parent contact.
For several years, Gail taught basic English skills to adults at Borough of Manhattan Community College. She also volunteered in the New York University Science Technology Entry Program, helping students craft college applications, navigate college websites, and practice interview skills. For the past five years, Gail has led a weekly English Conversation Group at the Brooklyn Public Library. Students' ages range from 18 to 80 years old; they come from the Philippines, Ukraine, Russia,  Honduras, Spain, France, Chile, Haiti, and elsewhere.
Gail was a founding member of the Board of the Leadership Prep Charter Schools, which began as a stand-alone charter and then joined the Uncommon Schools network of schools. She is currently a member of the Board of the Neighborhood Charter School of Harlem, whose mission is to educate children on the autism spectrum along with neuro-typical students.
Gail has an MPA from New York University, and a Certificate in Teaching English as a Second Language from the New School. She lives in Brooklyn with her husband.
---
Contributing Writers
Sheryl Cardozo
Kevin Dotson
Brandon Ho
Natalie Kass-Kaufman
John McCrann
John Sardo
Jack Stevenson
Other Contributors
Student Volunteers
Anik Brinckerhoff  Wellesley College
Dylan Agran  Poly Prep Country Day School, Instagram Contributor
---
Board of Directors
Eduardo Castell
Eduardo Castell brings 25 years of experience as a strategic consultant, campaign professional and government executive. He is currently a Partner at the Mirram Group, a leading public affairs consulting firm serving Fortune 500 companies, not-for-profit organizations, labor groups and candidates for elected office.
Mr. Castell has worked on media, political strategy, field operations, and policy aspects of campaigns at the municipal, state and federal levels. Among his many campaigns, Mr. Castell was lead consultant for Public Advocate Letitia James' historic election in 2013 and Rep. Velazquez's re-election victory in 2012, political consultant for Senator Kirsten Gillibrand and State Senator Adriano Espaillat's elections in 2010, and campaign manager for Bill Thompson's 2001 election as NYC Comptroller and impressive 2009 mayoral run.
From 2001 to 2009, Mr. Castell served as Executive Deputy Comptroller for the City of New York. As a member of the Comptroller's senior staff, he helped manage an agency with a $65 million operating budget, over 700 employees, and a pension portfolio exceeding $100 billion.
Previously, Mr. Castell spent 8 years working for U.S. Representatives Nydia Velazquez (D-NY) and Ted Weiss (D-NY) as speech writer, Legislative Director and Chief of Staff. He drafted numerous legislative proposals, successfully worked to bring millions in federal monies to New York City, and provided counsel on banking, housing and economic development matters.
Mr. Castell also has an extensive background working with Latino non-profit organizations in the areas of education, housing, social services and the arts. He is Chairman of the Afro Latin Jazz Alliance, which promotes Afro Latin Jazz through performance, preservation and education programs in NYC public schools. He is Vice-Chair of the Connecticut College Board of Trustees, overseeing all academic, financial and operational aspects of this distinguished private liberal arts college.
Mr. Castell graduated from Regis High School and received his B.A. from Connecticut College. He was raised in the Inwood/Washington Heights section of NYC and currently lives in Brooklyn with his wife and two sons who attend NYC public schools.
---
Colin Chellman
Chair of the Board
Colin Chellman is Associate Dean for Institutional and Policy Research at the City University of New York (CUNY), where he was most recently the founding Director of the Office of Policy Research. In that role he oversaw analyses of post-secondary racial, income, and gender gaps in college access and performance; college readiness and the high-school-to-college "pipeline"; the correlates of academic performance and educational attainment at CUNY; the role of college in economic development and workforce training; the educational experiences and choices of immigrant students; and the interrelationships of housing and education. With Gates Foundation and federal Institute of Education Sciences support, he is working with the New York City Department of Education to build and maintain a shared student-level longitudinal tracking data system to improve both systems' understanding of college readiness and success.
Before joining CUNY, he was a Research Scientist at New York University's (NYU) Institute for Education and Social Policy; an adjunct professor at NYU teaching courses in public policy, financial management, and public finance; and Research Manager for the Council on Economic Priorities.
His work has been published in Education Week as well as academic journals such as Economics of Education Review, Education Finance and Policy, TCRecord, Urban Affairs Review, Educational Policy, Education and Urban Society, Housing Policy Debate, and the Journal of the American Planning Association. In 2013, he joined the board of the Association for Education Finance and Policy (AEFP); he was the recipient of AEFP's New Scholar Award in 2006 and holds an M.P.A. and a Ph.D. in Public Policy and Finance from New York University's Wagner School, and a B.A. in International Relations/Political Science from the Johns Hopkins University.
---
Erica Heisman
Erica grew up in an environment of engaged local activism, and over the past twenty years has been involved in volunteer-based fundraising for political causes, education, and health issues.
Her professional experience includes editing and production management for Atheneum, The College Board, Barnes & Noble, and QuartoUS.   Up until now, her career has focused on letters rather than numbers, so she is eager to turn her attention to the other side of the aisle, and to become involved in the way kids learn and make use of math.
In the community, Erica has been an active volunteer at Congregation Beth Elohim in Brooklyn, NY, where she served on the Gala Committee, raising funds to repair and renovate historic buildings.  She also served as Co-Chair of the Parent Committee for the Religious School Advisory Board, helping plan and promote community-building events and parent get-togethers and advising the Religious School Director on policy decisions. She also volunteered from 2002-2010 on the Meet The Writer Committee at PS 321 in Brooklyn, where she helped select writers, prepared author visits, ordered books for events, and helped organize special events such as 20th Anniversary of Meet the Writer.
Erica's passion for learning and her commitment to improving education is coupled with an interest in connecting with a broad range of people from various backgrounds and communities. She is currently working toward a certificate in Fundraising at the NYU School of Professional Studies.
Erica received her B.A. in English Literature from the University of Wisconsin, Madison. She lives with her husband in Brooklyn, where they are raising two daughters who attend New York City Public Schools.
---
Justine Henning (see above)
Brendan Mernin (see above)
---
Board of Advisors
Sheri Berman
Advisor
Sheri Berman is a professor of political science at Barnard College, Columbia University, where her courses include Political Development; Making Democracy Work; and Democracy and Dictatorship in Europe. She is an officer of the Board of Trustees of the Harlem Educational Activities Fund.  HEAF provides academic, social, and cultural enrichment to under-served youth in New York City.
After failing to conquer a chemistry major in college, Sheri is saddened by the number of students, especially women, who are turned off by science and math and she sees how much poor teaching contributes to this state of affairs.  She also has children of her own who are very good at math and is always looking for ways to convince them of its relevance to any endeavor they will engage in later in life.
---
Jennifer B. Freeman
Jennifer B. Freeman is a science writer who has worked for leading environmental organizations including the Environmental Defense Fund, the Natural Resources Defense Council, the Earth Institute at Columbia, the National Oceanic and Atmospheric Administration and the Union of Concerned Scientists.
Jennifer has written two books — one about issues in environmental science and one about a diet treatment for children with epilepsy — and many book chapters, as well as reports, grant proposals and articles.
As an education advocate, Jennifer served on her local school board, founded the District 3 Green Schools Group, a grassroots organization promoting sustainability initiatives in New York City public schools, and influenced the New York City Department of Education to create a sustainability portal on its home page.
---
Pamela Mills
Advisor
Pamela Mills is the founding principal investigator and head of the PERC (Peer-Enabled Restructured Classroom) Program and a Professor of Chemistry at Hunter College, CUNY. She led a team of researchers, teachers, and developers to create the PERC model, which draws on research-based instructional practices developed by Professor Mills and others for the college chemistry classroom, as well as on the extant research literature on adolescent learning in math and science. This model harnesses the capacity of high school students to learn to teach other students and thereby learn about themselves as students and as leaders. The PERC model relies on teachers to teach differently and to invite students into the classroom as teaching assistants.
Dr. Mills earned her Ph.D. in theoretical chemistry from the University of Wisconsin-Madison. After a post-doc at the University of California, San Francisco medical school, she took a faculty position in the Chemistry Department at Hunter College. Although trained as a traditional research-oriented, physical chemist, her interests and passion led her into re-thinking college curricula and how students learn chemistry. She re-designed Hunter College's first-year chemistry curriculum and was instrumental in leading the department to become one of the nation's top twenty producers of chemistry majors. She has served in many leadership roles at Hunter, including Deputy Chair of the Chemistry Department and Chair of the Hunter College Senate, and has served on several cross-college and DOE-CUNY committees, including the New York State Regents committee to review standards and the CUNY Chancellor's committee on the Teaching Opportunity Scholars program.
---
Jason Ravitz
Advisor
Jason Ravitz has been at the forefront of education technology and assessment for two decades. Today, he is Manager of Evaluation for K-12 Programs at Google, where he focuses in particular on encouraging diverse youth, and especially girls, to develop and pursue interests in computer science.
Jason started his career as an educator and social scientist before discovering the Internet in the early 1990's. Inspired by its possibilities, he studied educational technologies at Syracuse University, earning a Ph.D. in Instructional Design. At BBN Educational Technologies in Cambridge, MA, he explored the impact of the emerging National Information Infrastructure on pioneering teachers and schools. He then gravitated to research and evaluation, trying to accelerate impacts on learning by combining design thinking (like handheld data collection and online assessments) with statistics to test theories and measure knowledge.
Jason has served as an expert panelist, consultant, and project evaluator for programs in the U.S. Department of Education, the National Science Foundation, and private foundations. He is author of several major reports on teaching practices in the U.S. and a contributing author to the acclaimed second edition of the BIE Project Based Learning Handbook.
Jason has taught graduate courses at Syracuse University, UC Irvine, and UC San Francisco, and has guest-lectured at UC Berkeley and Stanford University and elsewhere. He holds a Ph.D. and M.S. in Instructional Design, Development and Evaluation from Syracuse University, and a B.A. in Sociology and Psychology from Harvard University.
Jason is excited about supporting Math4Science's development of new technologies for learning and research and the use of statistics for building knowledge.
---
Benjamin Talton
Advisor
Benjamin Talton is an associate professor and Director of Undergraduate Studies in the Department of History at Temple University.  He specializes in 19th- and 20th-century African history.  Prior to joining Temple's faculty, he was an assistant professor at Hofstra University.  Benjamin has also taught in Ghana as a visiting senior lecturer and scholar-in-residence at Kwame Nkrumah University of Science and Technology.  In addition to his faculty appointments, Talton has served as an instructor for the Schomburg-Mellon Summer Institute at the Schomburg Center for Research in Black Culture (New York).  He is a past president of the Ghana Studies Association.  Beyond academia, Talton is active in community affairs throughout New York.  He is an executive board member of Ifetayo Cultural Arts Academy and was a founding member of the Board of Directors for Be Free Global.
Benjamin is the author of numerous publications including two books, Politics of Social Change in Ghana: The Konkomba Struggle for Political Equality (Palgrave Macmillan 2010) and, with Quincy Mills, of Black Subjects in Africa and its Diasporas: Race and Gender in Research and Writing (Palgrave Macmillan 2012).
Benjamin earned his doctorate in history in 2003 from the University of Chicago.  He earned his B.A. in history in 1996 from Howard University.  He lives in Brooklyn, NY with his wife and two children.
---
Judith Zangwill
Advisor
Judith Zangwill joined Sunnyside Community Services (SCS) in 1986 as Associate Executive Director, and became Executive Director in 1990. She now oversees three corporations providing community services for youth, seniors and families with more than 130 in-house staff, 1,800 home care workers and field staff, and more than 250 volunteers. She has enhanced community relationships and expanded public and private funding, growing the agency from its combined client population of 2,300 in 1990 to approximately 14,000 today. Her vision for SCS is in line with that of the settlement house movement. Ms. Zangwill sees the organization as a center where everyone in the diverse communities of Queens can feel welcome and find help to meet their families' needs.
Ms. Zangwill's commitment to the community also finds an outlet in local civic organizations. She is a longtime member and past president of the Sunnyside Kiwanis. She previously served on the Community Education Council of the Upper West Side. She sits on the Board of LiveOn NY, a nonprofit organization developed to provide training, technical support, and advocacy for 265 senior services providers in New York City. She also sits on the board of the Human Services Council, which represents New York City's voluntary not-for-profit agencies. She is also a trustee for the Unemployment Services Trust.
In 2008, Ms. Zangwill received the United Adult Ministries' Rose Kryzak Senior Leadership Award for her years of service and commitment to improving the lives of senior citizens, and accepted the first William D. Modell Community Service Award on behalf of SCS. She also has accepted a Neighborhood Builder Award from Bank of America on behalf of SCS, and she was honored in 2014 as a Woman of Distinction by the New York State Senate.